Custom Molding and Stairs!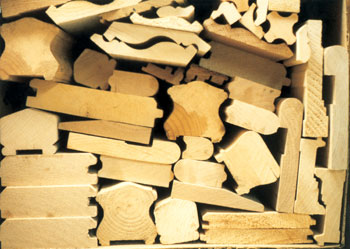 Custom Milling
There's more to your home than just the floor! Natural wood mouldings and trim from TimberKnee accent your living environment with authenticity and the beauty of wood grain and color. Few products compare for adding grace, beauty and function.
Let us make stairs, moulding, and trim to compliment the floor you've chosen. We have a variety of popular styles available, and we can custom make any style you like. We can even re-create antique moulding, treads, and panneling!
Base

Bases are applied where the floor and walls meet, forming a visual foundation. Baseboards, known in rural Vermont as "mopboards", protect walls from kicks, bumps, furniture, and cleaning tools. Bases may be referred to as one, two or three member. The shoe and cap are used to conceal uneven floor and wall junctions.

Beaded & V-groove paneling

Significantly higher quality than lumber yard material, TimberKnee's paneling is available in Select, Williamsburg or Country grades, in your choice of hardwoods, pine, or poplar.

Casing

TimberKnee casing can add a natural beauty to your inside and outside window and door openings to blend with your floor.

Chair railing

An interior moulding, chair rail is usually applied one third the distance from the floor, to accent, protect, or divide walls.

Cove

TimberKnee cove moulding has a concave profile for use at corners (typically as a ceiling cornice). Small coves may be used as inside corner guards.

Crowns & Beds

Most often used where walls and ceilings meet, TimberKnee crown mouldings are used to cover larger angles. Crowns are always sprung, while beds can also be plain. A sprung moulding has the interior corner beveled off to better fit at right angle joints.

Stair treads & risers

If your project includes an interior staircase, then you'll want to consider stair treads and risers of the same species to match your floor. TimberKnee treads feature the same value and beauty as our flooring and offer a strong aesthetic to a focal element in your home.

Gallery

Having top quality flooring is just the beginning. The top-quality projects also include a matching stair, railing, base, and casing.

We are lucky to have some of our customer supply us with samples of their work, done in our Timberknee custom materials.